With a Focus on Clinical Research, Miami Cancer Institute's Clinical Trials Benefit Patients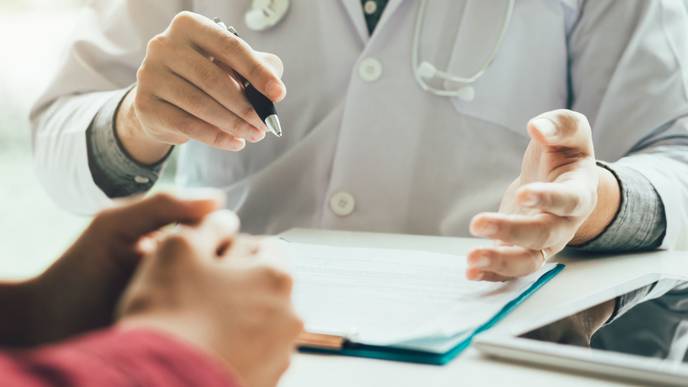 05/25/2023
Using novel therapies, physician-investigators at Miami Cancer Institute, part of Baptist Health, are conducting important cutting-edge clinical research in the battle against cancer.
Their hope is that today's clinical trials will lead to breakthroughs in life-prolonging treatments, and ultimately, cures for some of the most complex and difficult-to-treat cancers. Patients with a variety of cancers — including pancreatic, lung, breast, gynecologic, prostate and brain — are enrolled in approximately 200 open clinical trials at Miami Cancer Institute.
The Institute's patient-centered and robust clinical research is on par with the best in the nation. And with the recent announcement that Baptist Health and Florida International University will be expanding their academic and research alliance, the Institute's clinical research capabilities will be strengthened even further through interactions with translational and basic scientists at FIU. Additionally, Miami Cancer Institute's participation in the Memorial Sloan Kettering Cancer Alliance adds to the quality of its clinical trial portfolio.
"We are working with collaborators all over the globe to design and devise clinical trials that explore new protocols, continue to push drug development forward and provide innovative treatments," said Manmeet Ahluwalia, M.D., MBA, FASCO, Fernandez Family Foundation Endowed Chair in Cancer Research, deputy director, chief scientific officer and chief of solid tumor medical oncology at Miami Cancer Institute.
Dr. Ahluwalia is the principal investigator for numerous trials and is the recipient of a $3.9 million grant from the National Institutes of Health for his glioblastoma research with Pallavi Tiwari, Ph.D., of the University of Wisconsin. Together, they have developed and evaluated image-based tools to determine the risk of cancer recurrence in brain tumors. The study is an example of the highly innovative use of artificial intelligence to ensure the non-invasive diagnosis of recurrence versus radiation-related adverse effects.
A small sampling of other Miami Cancer Institute trials includes:
A study looking at the usefulness of a high-dose radiotherapy known as stereotactic body radiotherapy (SBRT) in treating oligometastatic breast or lung cancer. Led by principal investigator Rupesh Kotecha, M.D.

Testing a type of immunotherapy called pembrolizumab in patients with Merkel cell carcinoma after they have had surgery. Led by principal investigator Guilherme Rabinowits, M.D.

Incorporating chemoprevention into care for women diagnosed with abnormal cells in the breast that can become cancerous. Led by principal investigator Ana Cristina Sandoval, M.D.

A study to determine the maximum tolerated dosage of a novel drug in patients with lymphoid, myeloid or plasma cell malignancies. Led by principal investigator Guenther Koehne, M.D., Ph.D.

The use of Stereotactic MRI-guided Adaptive Radiation Therapy (SMART) for inoperable primary or metastatic carcinoma. Led by principal investigator Michael Chuong, M.D.
Recognized as experts in their field, Miami Cancer Institute physician-investigators have had 28 abstracts accepted to the American Society of Clinical Oncology (ASCO) annual meeting in Chicago, Ill., in June.
They are presenting outcomes data and findings on novel treatments and diagnostic methods from studies involving brain metastases, bladder cancer, breast cancer, lepomeningeal disease, lung cancer, and glioblastoma, among others. Some 40,000 oncology professionals from around the world attend ASCO to learn about the latest cancer research.
They also presented their latest research at the 2022 American Society for Radiation Oncology (ASTRO) annual meeting in San Antonio, Tex., this past October, at the annual meeting of the Society for Neuro-Oncology (SNO), held in November in Tampa, and at the annual meeting of the American Society of Hematology, held in December in New Orleans, La.
The Institute is also at the forefront of the movement to ensure that clinical research is diverse and inclusionary, which is extremely important for a better understanding of how cancer affects people of all ethnicities and socioeconomic backgrounds. In spite of making up one-third of the U.S. population, just 6 to 7 percent of participants in oncology clinical drug trials in the U.S. are Hispanic or Black.
Recently, the Institute's Executive Director and Chief Medical Officer Leonard Kalman, M.D., established the Center for Equity in Cancer Care & Research, a center led by Dr. Ahluwalia, to identify and decrease disparities in cancer care and to expand the participation of underserved populations in clinical trials. Because of Miami's geographic location and diverse population, the Institute is unique in that 60 percent of patients participating in its clinical trials are Hispanic. However, there is still a great opportunity to broaden clinical trial enrollment at the Institute to all the populations it serves.
"We are building a brighter future for cancer care, research and healthcare in South Florida," said Michael J. Zinner, M.D., CEO and executive medical director of Miami Cancer Institute and Baptist Health Cancer Care.