Study in SARS-CoV2 - Infected Mice May Lay the Groundwork for Novel Therapies to Reduce the Severity of COVID-19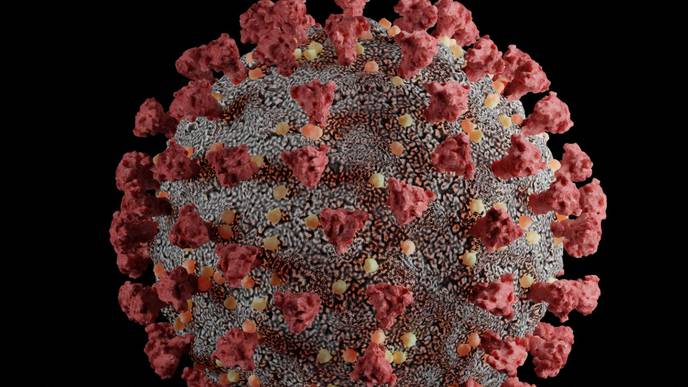 06/06/2023
Individuals who are immunocompromised are considered at higher risk for severe or longer disease with COVID-19. Understanding the systemic immune response is vital for research efforts to reduce its effects on multiple organs. A new study in SARS-CoV2-infected mice reported in The American Journal of Pathology, published by Elsevier, found lymphoid depletion lesions in the spleen that may form the groundwork for novel therapies to restore defective antigen-presenting cell (APC) functions in humans to trigger the cellular immune response and potentially reduce the severity of COVID-19.
The severity of COVID-19 varies considerably from no symptoms at all to severe disease with fatal complications. The risk of developing severe disease has been associated with dysregulated immune responses in patients. COVID-19 is known to impact not only the lungs but also non-target organs, leading to long-term complications and, in severe cases, multi-organ dysfunction. In particular, lymphopenia and lymphoid depletion in lymphoid tissues has been associated with poor disease outcomes.
Lead investigators Je Kyung Seong, DVM, PhD, Korea Mouse Phenotyping Center (KMPC), Seoul National University, and Jun Won Park, DVM, PhD, College of Biomedical Science, Kangwon National University, explained, "The mechanisms involved in the development of severe disease remain elusive, partially due to the limitations in evaluating immunologic factors of clinical samples, which could be affected by various circumstances, such as underlying diseases, age, sex, exposed environments, and eating habits."
They added, "Investigating the factors underlying the risk of developing severe disease in terms of immunodynamics under well-controlled infectious conditions based on animal models is essential to understanding the mortality and immunologic factors that contribute to disease severity. Therefore, gaining insight into the systemic immune response, beyond just the lung-related lesions, is vital for research efforts focused on reducing the effects of COVID-19 on multiple organs and lessening the long-term consequences."
In this study, human angiotensin-converting enzyme 2 (K18-hACE2) transgenic mouse models susceptible to SARS-CoV-2 infection, the strain of coronavirus that causes COVID-19, were used to investigate the characteristics and determinants of lethality associated with the lymphoid depletion observed in COVID-19.
Dr. Seong noted, "The K18-hACE2 mouse model is extensively employed in preclinical trials for the development of COVID-19 treatments and vaccines. Our research group has performed numerous preclinical studies using this model. During these experiments, we discovered a strong correlation between the mice's mortality rate, fatal brain infections, and lymphoid depletion observed in their spleens."
Dr. Park added, "As similar splenic lesions are also found in patients with severe COVID-19, it is crucial to characterize lymphoid depletion in this lethal mouse model. Doing so will enable a better understanding of the factors contributing to COVID-19 patient mortality and aid in the development of effective therapies to mitigate these outcomes."
The infected mice exhibited a diverse range of disease severity in terms of weight, temperature, lung pathology, spleen pathology, and brain infection. The correlation between these parameters was then analyzed to define the lethality induced by COVID-19 in the mouse model. The results indicated that, in addition to lung lesions, brain viral load is a major determinant of mortality in this mouse model.
Caption: A comparison of severity and lymphoid depletion in mice infected with Wuhan, Delta, and Omicron SARS-CoV-2 and Influenza A. DCs, dendritic cells; MHC, major histocompatibility complex; APCs, antigen presenting cells (Credit: TheAmerican Journal of Pathology).
The results collectively demonstrate that lymphoid depletion lesions observed in the spleen serve as a crucial factor reflecting mortality rates. Lymphoid depletion accompanied by reduced APC function was a specific feature observed in the Wuhan and Delta types of SARS-CoV-2 but not in other infections such as Omicron and influenza A and had the greatest prognostic value for disease severity in mice infected with the Wuhan and Delta variants.
Dr. Seong commented, "Thus, we demonstrated that lymphoid depletion associated with suppressed APC function characterizes the lethality of COVID-19 in mouse models."
Dr. Park observed, "Our study may form the groundwork for novel therapies to restore defective APC functions in patients with COVID-19 and possibly prevent its severe progression by enhancing APC functionality."
Accordingly, the investigators recommend evaluating the spleen in K18-hACE2 mice to assess vaccine and therapeutic efficacy in preclinical testing.
---
Notes for editors
The article is "Murine Coronavirus Disease 2019 Lethality Is Characterized by Lymphoid Depletion Associated with Suppressed Antigen-Presenting Cell Functionality," by Yu Jin Lee, Sang Hyeok Seok, Na Yun Lee, Hee Jin Choi, Yoon Woo Lee, Hee Jung Chang, Ji-Yeon Hwang, Da In On, Hyun Ah Noh, Su-Bin Lee , Ho-Keun Kwon, Jun-Won Yun, Jeon-Soo Shin, Jun-Young Seo, Ki Taek Nam, Ho Lee, Ho Young Lee, Jun Won Park, and Je Kyung Seong (https://doi.org/10.1016/j.ajpath.2023.03.008). It appears online in advance of The American Journal of Pathology, volume 193, issue 7 (July 2023), published by Elsevier.
The article is openly available at https://ajp.amjpathol.org/article/S0002-9440(23)00119-0/fulltext.
Full text of the article is also available to credentialed journalists upon request. Contact Eileen Leahy at +1 732 238 3628 or ajpmedia@elsevier.com to request a PDF of the article. To request an interview with the authors please contact Je Kyung Seong at snumouse@snu.ac.kr or Jun Won Park at jwpark@kangwon.ac.kr.
About The American Journal of PathologyThe American Journal of Pathology, the official journal of the American Society for Investigative Pathology, published by Elsevier, seeks high-quality original research reports, reviews, and commentaries related to the molecular and cellular basis of disease. The editors will consider basic, translational, and clinical investigations that directly address mechanisms of pathogenesis or provide a foundation for future mechanistic inquiries. Examples of such foundational investigations include data mining, identification of biomarkers, molecular pathology, and discovery research. High priority is given to studies of human disease and relevant experimental models using molecular, cellular, and organismal approaches. https://ajp.amjpathol.org
About Elsevier
As a global leader in information and analytics, Elsevier helps researchers and healthcare professionals advance science and improve health outcomes for the benefit of society. We do this by facilitating insights and critical decision-making for customers across the global research and health ecosystems.
In everything we publish, we uphold the highest standards of quality and integrity. We bring that same rigor to our information analytics solutions for researchers, health professionals, institutions and funders.
Elsevier employs 8,700 people worldwide. We have supported the work of our research and health partners for more than 140 years. Growing from our roots in publishing, we offer knowledge and valuable analytics that help our users make breakthroughs and drive societal progress. Digital solutions such as ScienceDirect, Scopus, SciVal, ClinicalKey and Sherpath support strategic research management, R&D performance, clinical decision support, and health education. Researchers and healthcare professionals rely on over 2,800 digitized journals, including The Lancet and Cell; our 46,000+ eBook titles; and our iconic reference works, such as Gray's Anatomy. With the Elsevier Foundation and our external Inclusion & Diversity Advisory Board, we work in partnership with diverse stakeholders to advance inclusion and diversity in science, research and healthcare in developing countries and around the world.
Elsevier is part of RELX, a global provider of information-based analytics and decision tools for professional and business customers.