Statewide Study Explores How Pre-Existing Disease Has Influenced the COVID-19 Experience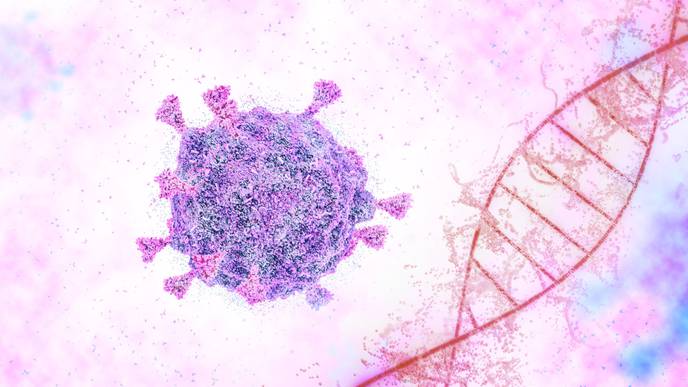 06/26/2023
INDIANAPOLIS - A study of more than three-quarters of a million Indiana COVID-19 cases is one of the first to focus on the disease in the Midwest. The research examines the relationship between the presence of pre-existing disease and COVID-19 outcomes in a region that has some of the highest prevalence of comorbidities, including hypertension, chronic obstructive pulmonary disease (COPD) and diabetes.
The study, conducted by researchers from Regenstrief Institute, Indiana University and The Ohio State University sourced data through the COVID-19 Research Data Commons. For COVID-19 patients, research demonstrated the pre-existing presence of one or more diseases, called comorbidities, was linked to an increased risk of admission to an intensive care unit (ICU) as well as greater likelihood of death. For many pre-existing conditions, older age, male sex or both augmented risk of ICU admission for COVID patients. Health disparities due to race and to access to healthcare were also found to influence outcomes.
The COVID-19 Research Data Commons was developed by Regenstrief Institute informaticians early in the pandemic and contains information obtained from the Indiana Department of Health and the Indiana Network for Patient Care (INPC). Created by Regenstrief Institute and managed by the Indiana Health Information Exchange, the INPC is one of the nation's largest clinical data repositories.
"Our examination of this trove of data from throughout Indiana confirms that COVID-19 health disparities -- racial, geographic and economic -- clearly exist," said study co-author Regenstrief Institute Research Scientist Titus Schleyer, DMD, PhD. "Black patients were much more likely to be admitted to the intensive care unit (ICU) with COVID-19 than White patients, indicating that Black patients had more severe cases of the disease than White patients. Disparities were also found between rural and urban areas.
"Our work validates findings from smaller and less geographically comprehensive studies and also helps resolve previous conflicting findings. This is one of the biggest studies looking at how pre-existing disease influences the COVID experience and it allows us to better predict who is going to get infected by COVID – and potentially similar viruses -- and suffer more."
"We analyzedCOVID-19 positive patients as well as healthy and nonhealthy patients who did not have COVID as controls for the datasets,"said study corresponding author Xia Ning, PhD, a Regenstrief Institute affiliated scientist and faculty member at The Ohio State University. "The large amount of robust electronic health record data from the COVID-19 Research Data Commons provided a relatively complete picture of COVID throughout Indiana from the critical, initial period of the pandemic before home test kits became available."
"The question of why we are interested in researching COVID, now that it's almost 'conquered,' is an important one," noted Dr. Schleyer. "The answer is simple -- the next infection is really just right around the corner. It's not a question of if a pandemic like COVID will happen, but when. There are many pathogens -- bacterial or viral -- that could have the same or similar infection rates as COVID.
"There are hypotheses that COVID was caused by people getting infected by interaction with wild animals, and that's clearly a risk as more humans have more contact with wild animals. There's another risk that most people don't know about, which is that climate change is thawing permafrost. Permafrost has kept potentially dangerous pathogens locked up for thousands and thousands of years. With the thawing of permafrost, those pathogens have an opportunity to get into the air; get into the flora and fauna, and, obviously, eventually could be transmitted to humans. It's very important that we don't just wash our hands of COVID. Rather, we need continue to learn lessons to prevent or at least mitigate the next pandemic that's going to surely come."
"Understanding comorbidities and health disparities related to COVID-19: a comprehensive study of 776 936 cases and 1 362 545 controls in the state of Indiana, USA" is published in JAMIA Open.
Authors and their affiliations
Nader Zidan (co-first author)1, Vishal Dey (co-first author)1, Katie Allen2, John Price2,  Sarah Renee Zappone2, Courtney Hebert3, Titus Schleyer2,4, and Xia Ning1,3,5
1 Department of Computer Science and Engineering, The Ohio State University, Columbus, Ohio, USA; 2 Regenstrief Institute, Indianapolis, Indiana, USA; 3 Department of Biomedical Informatics, The Ohio State University, Columbus, Ohio, USA; 4 Department of Medicine, School of Medicine, Indiana University, Indianapolis, Indiana, USA; and 5 Translational Data Analytics Institute, The Ohio State University, Columbus, Ohio, USA.
This work was supported by the National Library of Medicine (3R01LM012605-03S1 and 1R21LM013678-01), Indiana Clinical and Translational Sciences Institute (funded in part by National Institutes of Health, National Center for Advancing Translational Sciences Clinical and Translational Sciences Award UL1TR002529), and the Lilly Endowment, Inc. Physician Scientist Initiative.
About Titus Schleyer, DMD, PhD
In addition to his role as a Regenstrief Institute research scientist, Titus K. Schleyer, DMD, PhD, is the program director for learning health informatics at Regenstrief and is a professor of biomedical informatics at Indiana University School of Medicine.
About Xia Ning, PhD
Xia Ning, PhD is a professor and section chief of AI, clinical informatics and implementation science in the Department of Biomedical Informatics and a professor in the Department of Computer Science and Engineering at The Ohio State University. She is also a Regenstrief Institute affiliated scientist.
About Regenstrief Institute
Founded in 1969 in Indianapolis, the Regenstrief Institute is a local, national and global leader dedicated to a world where better information empowers people to end disease and realize true health. A key research partner to Indiana University, Regenstrief and its research scientists are responsible for a growing number of major healthcare innovations and studies. Examples range from the development of global health information technology standards that enable the use and interoperability of electronic health records to improving patient-physician communications, to creating models of care that inform practice and improve the lives of patients around the globe.
Sam Regenstrief, a nationally successful entrepreneur from Connersville, Indiana, founded the institute with the goal of making healthcare more efficient and accessible for everyone. His vision continues to guide the institute's research mission.
About IU School of Medicine
IU School of Medicine is the largest medical school in the U.S. and is annually ranked among the top medical schools in the nation by U.S. News & World Report. The school offers high-quality medical education, access to leading medical research and rich campus life in nine Indiana cities, including rural and urban locations consistently recognized for livability.
About The Ohio State University
The Ohio State University, commonly called Ohio State, is a public land-grant research university in Columbus, Ohio. The university brings together expertise, ideas and resources to improve communities. Through reflection, evaluation and meaningful action, Ohio State aims to reinforce its ethical culture to advance its core work of teaching, learning, research and service.
---
---
Article Title
Understanding comorbidities and health disparities related to COVID-19: a comprehensive study of 776 936 cases and 1 362 545 controls in the state of Indiana, USA