Researchers to Train Farmers on How to Reduce Greenhouse Gas Emissions, Improve Soil Health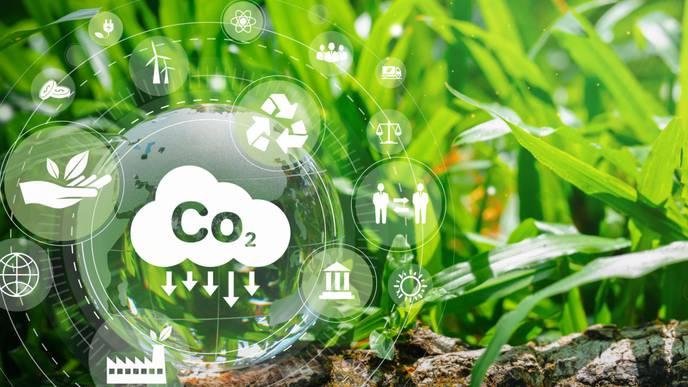 06/22/2023
TRAINING ...
Researchers to Train Farmers on How to Reduce Greenhouse Gas Emissions, Improve Soil Health
The project is supported by a new $2 million, four-year grant from the U.S. Department of Agriculture
PUBLISHED ON
David Huber, Ph.D., poses for a photo while collecting soil carbon samples from a winter wheat field near Kimberly, Idaho – one of the areas included in the new Carbon SMART project. (Photo credit: Tanzila Hanif)
EL PASO, Texas — In 2021, agricultural activities contributed to 10 percent of greenhouse gas emissions in the U.S. Now, researchers at The University of Texas at El Paso will help reduce these emissions by training farmers across the nation on climate-friendly agricultural practices.
The project is supported by a new $2 million, four-year grant from the U.S. Department of Agriculture (USDA).
The team behind the Carbon SMART (Soil Monitoring, Assessment, Research and Training) project includes soil scientists and geochemists from UTEP as well as geomorphologists, landscape ecologists, sociologists, and environmental anthropologists from Boise State University in Idaho. The researchers will train farmers and ranchers in Idaho and the surrounding region to monitor carbon levels in soil and practice climate-smart conservation practices.
Increasing carbon in soil is key to increasing soil health, according to the team. Carbon is a key ingredient in photosynthesis, the process by which plants absorb and convert carbon dioxide and water into sugar and oxygen. Once absorbed from the atmosphere, carbon is stored in the surrounding soil as decaying plant matter.
"On a global scale, soil collectively holds about twice as much carbon as the atmosphere," said David Huber, Ph.D, the project's principal investigator and a research assistant professor in the UTEP Department of Earth, Environmental and Resource Sciences.
But certain farming practices, like tilling and lack of cover crops, can disrupt soil structure and cause carbon to be released into the atmosphere faster than it is stored naturally, which contributes to atmospheric warming, climate change and reduced soil health. According to Huber, maintaining stable levels of carbon in soil is in the best interest of farmers and critical to preventing further warming.
In addition to training producers to measure carbon levels in soil, the Carbon SMART team will monitor the success of various conservation methods at maintaining stable carbon levels.
"This project will offer farmers and ranchers a practical toolset to assess for themselves the virtues of climate-smart conservation practices." said Huber. "It will also provide important insight into why producers adopted one set of conservation practices but not others."
The team that received the grant will primarily work with farmers and ranchers from underserved communities. They plan to begin outreach with non-governmental agencies that work with these producers, as well as partner with state and federal agencies, state agricultural boards and industrial farms.
"The Carbon SMART project will generate crucial knowledge about conservation practices that enhance carbon storage in soil and can be used to help agricultural producers improve soil health throughout the western U.S.," said Robert Kirken, Ph.D., dean of the UTEP College of Science. "I'm very proud of the team for earning this grant that helps prevent further climate change while simultaneously helping historically underserved communities, and I'm looking forward to what they accomplish."
Additional investigators on the project include UTEP Professor of Earth, Environmental and Resource Sciences Lixin Jin, Ph.D. and Boise State University faculty members Jen Pierce, Ph.D.; Jodi Brandt, Ph.D.; Lisa Meierotto, Ph.D.; and Rebecca Som Castellanos, Ph.D.
---
About The University of Texas at El Paso 
The University of Texas at El Paso is America's leading Hispanic-serving University. Located at the westernmost tip of Texas, where three states and two countries converge along the Rio Grande, 84% of our 24,000 students are Hispanic, and half are the first in their families to go to college. UTEP offers 169 bachelor's, master's, and doctoral degree programs at the only open-access, top-tier research university in America.
–University of Texas at El Paso
via EurekAlert!