Primary Care Practices Identify Needed Improvements for Telemedicine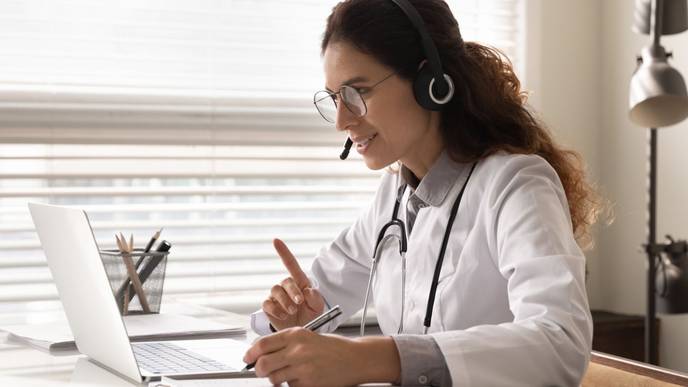 06/02/2023
Qualitative data provided by 87 primary care practices in New York and Florida showed that while telehealth experiences differed on the basis of pre-pandemic clinician and practice familiarity with virtual care platforms, varying state regulations during the public health emergency, the lack of formal guidelines and physician burnout affected how quickly telemedicine offerings matured within practices.
WHY IT MATTERS
To identify common facilitators and barriers to telehealth implementation, researchers evaluated practice leaders' perspectives on 32 aspects of telemedicine in their practices, according to a new report published in the Annals of Family Medicine.
The participating primary care practices, all part of Patient-Centered Outcomes Research Institute's clinical research network, were either general, family, ambulatory internal medicine, preventive medicine or geriatric medicine practices. They self-identified their point of maturation.
Not unexpectedly, ease of adoption depended on prior experience with virtual health, according to "The telemedicine experience in primary care practices in the United States: Insights from practice leaders" report. 
Practices with already established telemedicine programs did not face the same adaptation challenges as their counterparts embarking on new virtual care programs. However, the scheduling volume of visits was "a broadly cited acute problem."
Clinicians said jumping from in-person visits to telehealth and back was frustrating – and noted that patients were less tolerant of waiting for a virtual appointment, the researchers said. They also said clinicians reported needing more formal training on how to communicate more effectively over a virtual platform and about state regulation. 
Regulations that varied widely also affected their use of telehealth platforms. For example, Florida's "highly specific emergency order that limited controlled substance prescribing only to preexisting patients" was a common theme in the interviews, according to researchers. 
One primary care practice leader said Florida's laws put a "monkey wrench" in telemedicine. "Patients taking controlled substances, such as testosterone, would have to come in person for refills," they noted.
Like many other states, Florida's laws restricting payment for asynchronous visits restricted audio-only appointments, which respondents said limited access for older patients.
Licensure was also a moving target that could hamper the ability to treat preexisting patients.
A third theme that emerged was the propensity for telehealth visits scheduled for appointment overflow, rather than as an appropriate format for specific complaints. 
According to researchers, several respondents agreed that a robust triage process is needed, so that clinicians are not trying to address a symptom like acute chest pain over a telehealth visit.
Respondents said patient-specific factors, such as privacy preferences, could underlie visit-type decisions. They also noted it's not clear when to refer a virtual patient to emergency services
"Even though clear guidelines are crucial for planning virtual visits, formal guidance is currently lacking," the researchers said.
"These gaps are not trivial and signify an opportunity to greatly improve virtual health care delivery."
The fourth theme to emerge was that telemedicine held both positive and negative effects on both doctors and patients.
Jumping on a virtual visit was perceived as a benefit for mental health and chronic conditions, as well as a "disparity buster" by some PCP leaders overseeing practices serving Medicaid and Medicare populations. 
Two study respondents noted telehealth visits provided "billable opportunities" to reinforce and review test results after an initial visit.
However, some practices are concerned about "inequitable access to care," such as when they are setting up a patient portal as a prerequisite to booking a virtual visit.
The study revealed mixed opinions on how telehealth affected physician burnout. 
Some of the practice leaders reported that telemedicine visits were often preferred to improve access for patients with limited mobility, reduce clinician risks of infection and provide doctors with more flexible scheduling opportunities.
Meanwhile, other respondents said doctors worked beyond normal hours, supported patient technical issues and were left to judge when a virtual visit was appropriate for a patient's need. 
"[Clinicians] feel alone doing telemedicine [and] say to themselves 'I don't ever want to do that again,' because a full day of telehealth is challenging," one respondent said.
THE LARGER TREND
Before the COVID-19 pandemic, telemedicine utilization was impeded by reimbursement concerns and a lack of regulation. But the telehealth boom during the pandemic proved virtual primary care inspires several value-ads.
Virtual care is primary care reimagined to Rob Bressler, senior vice president of Primary360 at Teladoc Health. Telemedicine is a tool that helps create longitudinal care plans that foster lasting relationships between patients and providers, provides continuous care team support and can deliver a unified whole-person experience.
"The promise to deliver quality primary care in a more consumer-friendly and effective way coupled with the anticipated PCP shortages indicates that the demand for virtual primary care will grow significantly over the next few years," he told Healthcare IT News last year.
ON THE RECORD
"Arguably the most salient – and potentially modifiable – finding was the noted need for telemedicine triage rules," the researchers said.
Andrea Fox is senior editor of Healthcare IT News.
Email: afox@himss.org
Healthcare IT News is a HIMSS Media publication.