IU Research Center Takes New Step in Breast Cancer Research - Accepting Samples from Men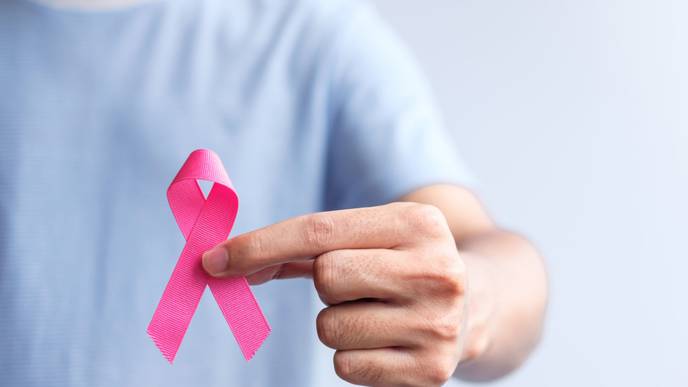 06/13/2023
Although Eric Hayes is a man, he is all too familiar with breast cancer, often considered a woman's problem.
His mother and one of his sisters died from the disease. Three other sisters were diagnosed and had double mastectomies within a space of three years. And, 15 years ago his wife Lisa was diagnosed with breast cancer and subsequently treated successfully.
So, when Hayes, 63, heard about a new initiative to glean more information about breast cancer in men, he signed up to participate, donating some of his own breast tissue to Indiana University's Susan G. Komen Tissue Bank.
The only repository of healthy breast tissue in the world, the Komen Tissue Bank has collected samples from more than 5,000 women since its creation in 2007. Now, however, the bank is expanding its scope to include healthy breast tissue from men.
Only 1% of people diagnosed with breast cancer are male. Still, about 2,800 men are diagnosed each year and about 530 die each year, according to the Breast Cancer Research Foundation.
Numerous scientists have turned to the bank for samples they can use in their studies of all aspects of female breast cancer. But the one area they could not delve into remained breast cancer in men. After the bank received questions from researchers about male breast tissue, staffers started thinking about how to make that happen.
"This really started with the idea that men also develop breast cancer and we know that male breast cancer behaves differently than in women," said Michele Coté, director of the Komen Tissue Bank. "They (men) have really been under-represented in research for decades and this is an opportunity for us to help promote research."
Prior to the creation of the Komen bank, researchers could glean healthy breast tissue from breast reduction surgeries or mastectomies. But no equivalent procedure exists for men, making this resource even more needed, Coté said.
Few specifics are known about male breast cancer, she added. A larger proportion of men diagnosed have known mutations that increase their risk, such as BRCA genes and survival tends to be worse overall as well. Unlike with female breast cancer, many people are not even aware that men can get breast cancer.
Health news:End of COVID-19 emergency could lead thousands of Hoosiers to lose Medicaid coverage
There for his own mammogram
When Matt Bowman first noticed an inverted nipple, he mentioned it to his nurse practitioner at his annual checkup in 2016. She suggested watching it until his next appointment but as it was December and he had already met his health deductible, he decided to go ahead with testing. First came the ultrasound, then a mammogram, then a biopsy.
Bowman, a 44-year-old nurse in Vincennes, had breast cancer.
Breast cancer did run in the family, said Bowman's mother Pat Buntrock. Not only did she have a history of precancerous breast biopsies, she had a cousin and an aunt who had breast cancer as did her sister. She and her son had participated in a study at the University of Washington of families who had a high incidence of the disease but no known gene mutation.
Bowman became the latest member of the family diagnosed with the disease. He had a mastectomy and underwent chemotherapy and radiation, Buntrock said and became an advocate for increasing awareness of breast cancer in men.
At one of his mammogram appointments, Bowman experienced firsthand the stigma that exists surrounding male breast cancer, Buntrock said. A staffer asked whom he had accompanied to the appointment, not even considering he might be there on his own behalf.
In July of 2020, he caught COVID. Even after the infection passed, a cough lingered though his doctors kept saying it was post-COVID. The following May after choking on a popcorn kernel at work and nearly passing out, his doctor ordered a chest scan. The cancer had returned. Despite treatment, he seemed to grow worse each day, Buntrock said.
That September he died at age 49.
After he died, Buntrock received money from his life insurance and retirement fund. Determined not to benefit financially from her only child's death, Buntrock approached IU Health, where Bowman had sought a second opinion about making "a modest donation," one earmarked to support research into male breast cancer.
Her donation, the doctor who had treated Bowman said, would help open up the bank for men to donate tissue.
The IU doctor told Buntrock, "I feel like this is going to have a snowball effect," she said.
'Men have breasts?'
In November, the bank did a pilot study of 10 men to see if collecting tissue would even be possible. Ultrasounds are needed to guide the collection process to ensure that the tissue being removed is actual breast tissue and not muscle, Coté said. The doctors were able to collect breast tissue from all the participants. While the procedure takes a little bit longer for men than for women, the recovery is no different she said.
The first man to donate, Steven Peachey Jr., 36, has a long history with the bank. The Catherine Peachey Fund, an initiative named for his aunt who died of breast cancer in 1994 at age 43, helped start the Komen Bank.
For most of his life, the southside man has been a staunch advocate in the fight against breast cancer, frequently volunteering and working to raise awareness. The prospect of donating his own tissue was completely new, however.
"This was something that I never had the opportunity to do," Peachey said. "When you tell people about it, they say, wait a minute, men have breasts? We all have breast tissue, it's just a matter of finding it but we can all get breast cancer."
More health coverage:A healthy 17-year-old in Indiana had a stroke. Doctors think vaping was the cause.
The biopsy went quite smoothly, said Peachey, who has at least three close relatives who have been diagnosed with breast cancer and whose family suspects his grandfather's lymphoma diagnosis may actually have been breast cancer.
Going forward, Komen plans to incorporate men into many of their regular tissue collection events, which occur all over the country. Because men's biopsies take a little more time, Coté estimates that they will only be able to collect samples from 30 to 50 men in a day, compared with the 100 to 150 samples from women. By the end of the year, Coté hopes the bank will have collected about 100 male breast samples.
One of those samples has come from Hayes. He heard about the opportunity to participate from his wife, who started a nonprofit known today as Pink Forever Ending Disparities focused on raising awareness of breast cancer in the Indianapolis Black community.
Out of nine children in his family, Hayes, 63, and one brother are the only ones never to have been diagnosed with some type of cancer. A male cousin has also been through treatment for breast cancer. After his wife went through treatment, Hayes helped start a support group for men whose wives or loved ones had breast cancer. He did not hesitate to sign up when he heard about the male breast tissue pilot study.
"It was something that I feel almost a duty to do personally," the north west side Indianapolis resident said.
For men who want to donate
The Susan G. Komen Tissue Bank will be holding a men-only collection event this Saturday morning June 10 from 8 to 10:30. People who want to participate or for more information can contact the bank at 866-763-0047 or visit www.komentissuebank.iu.edu.Those interested in donating at another time can contact the bank at 317-274-2366.
Contact the reporter at (317) 444-6354or at srudavsky@indystar.com.