How Bad Is Wildfire Smoke for Your Health?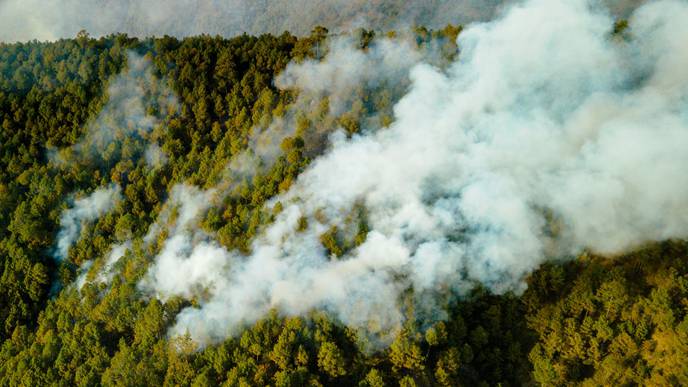 06/28/2023
The United States Environmental Protection Agency (EPA) established an Air Quality Index (AQI) to measure air pollutants. A higher AQI, with color codes and corresponding numbers (ranging from 0 to 500), means a greater health concern. (Local AQI information is available on various apps and websites, including www.airnow.gov.)
Particle pollution, also known as particulate matter (or PM), is a type of air pollutant made up of tiny particles of solids or liquids suspended in the air. It's one of the main components of wildfire smoke, which is a mix of gases and fine particles from burning vegetation, as well as building and other materials.
Particulate matter includes PM10, inhalable particles that are 10 micrometers and smaller in diameter, and PM2.5, inhalable particles with diameters of 2.5 micrometers and smaller. PM2.5 poses a greater health risk than PM10 because the particles are so small (30 times smaller than the diameter of a human hair) and can get deep into the lungs and bloodstream.
Although air pollution is not good for anyone, certain groups are more sensitive to it than others, including those with heart or lung disease, older adults, infants and children, and pregnant women. As the AQI levels increase, the risk of health effects increases, especially among these more sensitive groups.
"The advice to limit strenuous activities is because when your respiratory rate is higher, you inhale more particulates," says Dr. Redlich.
When the AQI is 201 and higher, everyone should be concerned about health risks and limit physical activity outdoors as much as possible, she adds.
For context, with the recent wildfires in Canada, the PM2.5 AQI climbed above 400 for a brief period in New York City in early June.