FDA Grants Priority Review to Capivasertib Plus Fulvestrant in Advanced HR+ Breast Cancer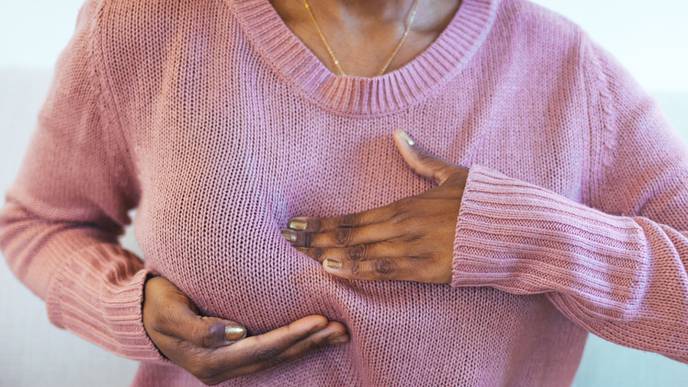 06/14/2023
The FDA has accepted and granted priority review designation to the new drug application for the combination of capivasertib and fulvestrant (Faslodex) for the treatment of patients with hormone receptor–positive, HER2-negative, locally advanced or metastatic breast cancer following recurrence or progression on or after endocrine-based therapy.1
The designation is based on data from the phase 3 CAPItello-291 trial (NCT04305496), which demonstrated a 40% reduction in the risk of disease progression or death with the addition of the AKT inhibitor to endocrine therapy with fulvestrant (n = 355) vs fulvestrant plus placebo (n = 353) in this population. Median progression-free survival (PFS) was 7.2 months (95% CI, 5.5-7.4) and 3.6 months (95% CI, 2.8-3.7) with the combination and fulvestrant alone, respectively (HR, 0.60; 95% CI, 0.51-0.71. P < .001).2
The FDA action date for the regulatory decision is scheduled during the fourth quarter of 2023 per The Prescription Drug User Fee Act date.
"This priority review decision underscores the potential of capivasertib to extend the effectiveness of endocrine-based treatment approaches for patients with hormone receptor–positive breast cancer who experience tumor progression on, or resistance to these widely used therapies. We look forward to working with the FDA to bring this potential first-in-class AKT inhibitor to patients as quickly as possible," Susan Galbraith, executive vice president of Oncology R&D at AstraZeneca, stated in a press release.
In January 2023, the FDA granted fast track designation to capivasertib for use in this population. Its efficacy and safety were evaluated in the phase 3, double-blind, randomized CAPItello-291 trial, which is part of a larger clinical program focused on capivasertib.
The trial enrolled 708 adult patients with histologically confirmed, locally advanced or metastatic hormone receptor–positive, HER2-low or negative breast cancer following disease recurrence or progression during or after aromatase inhibitor therapy, with or without a CDK4/6 inhibitor, and up to one line of chemotherapy for advanced disease.
HER2 negativity was defined as immunohistochemistry [IHC] 0 or 1+, or IHC 2+/negative in situ hybridization.
The coprimary end points of the trial were PFS in the overall patient population and in the population of patients whose tumors had PIK3CA, AKT1 or PTEN alterations in the AKT pathway (combination, n = 155 vs placebo, n = 134). Secondary end points included overall survival (OS), objective response rate, and safety. Patient-reported end points included the European Organization for Research and Treatment of Cancer Core Quality of Life Questionnaire (QLQ-C30).
The data cutoff for the primary analysis was August 15, 2022, at which point 63 patients (17.7%) were continuing to receive treatment with capivasertib vs 43 (12.3%) with placebo. The median duration of treatment with capivasertib was 5.4 months. The median duration of treatment with fulvestrant was 5.8 months in the combination arm and 3.7 months in the placebo arm.
Additional results indicated that median PFS was 7.3 months (95% CI, 5.5-9.0) with the combination compared with 3.1 months (95% CI, 2.0-3.7) with fulvestrant alone in patients with AKT pathway alterations (HR, 0.50; 95% CI, 0.38-0.65; P < .001).
OS, although immature at the time of the analysis, demonstrated encouraging early data, with estimated 18-month survival rates of 73.9% (95% CI, 68.3%-78.7%) and 65.0% (95% CI, 58.7%-70.6%) with the combination and fulvestrant alone in the overall population (HR, 0.74; 95% CI, 0.56-0.98). In the AKT pathway–altered population, the estimated 18-month OS rates were 73.2% (95% CI, 64.8%-80.0%) and 62.9% (95% CI, 53.1%-71.2%), respectively (HR, 0.69; 95% CI, 0.45-1.05).
Regarding safety, the most common grade 3 or higher adverse effects (AEs) with the combination vs fulvestrant alone, respectively, were rash (12.1% vs 0.3%) and diarrhea (9.3% vs 0.3%).
Serious AEs occurred in 57 patients (16.1%) in the combination arm vs 28 (8.0%) in the placebo arm. Treatment-emergent deaths owing to acute myocardial infarction, cerebral hemorrhage, aspiration pneumonia, and sepsis occurred in 4 patients (1.1%) receiving the combination vs 1 patient receiving placebo, who passed due to COVID-19. None of the deaths were determined to be related to capivasertib or fulvestrant.
AEs leading to a dose interruption occurred in 124 patients (34.9%) receiving capivasertib vs 36 (10.3%) receiving placebo. AEs leading to dose reduction occurred in 70 patients (19.7%) on capivasertib vs 6 (1.7%) on placebo. AEs leading to treatment discontinuation occurred in 13.0% (n = 46) of patients receiving capivasertib vs 2.3% (n = 8) of those receiving placebo.
Global health status and quality of life were also maintained in both arms, with mean overall changes from baseline in the QLQ-C30 score of −2.52 points and −5.62 points with capivasertib and placebo, respectively (difference, 3.10 points; 95% CI, 0.21-5.98).
Notably, global health status and quality of life were prolonged with the combination compared with fulvestrant alone. The median time to deterioration, which was defined as a sustained decrease of at least 10 points in the score from baseline, was 24.9 months with capivasertib vs 12.0 months with placebo (HR, 0.70; 95% CI, 0.53-0.92). Results were similar in the AKT pathway–altered population.
References
Capivasertib in combination with faslodex granted priority review in the US for patients with advanced HR-positive breast cancer. News release. AstraZeneca. June 12, 2023. Accessed June 12, 2023. https://www.astrazeneca.com/media-centre/press-releases/2023/capivasertib-in-combination-with-faslodex-granted-priority-review-in-the-us.html
Turner NC, Oliveira M, Howell SJ, et al. Capivasertib in hormone receptor–positive advanced breast cancer. N Engl J Med. 2023;388(22):2058-2070. doi:10.1056/NEJMoa2214131