CRISPR/Cas9-Based Screening Identifies Potential Therapies for Non-Alcoholic Fatty Liver Disease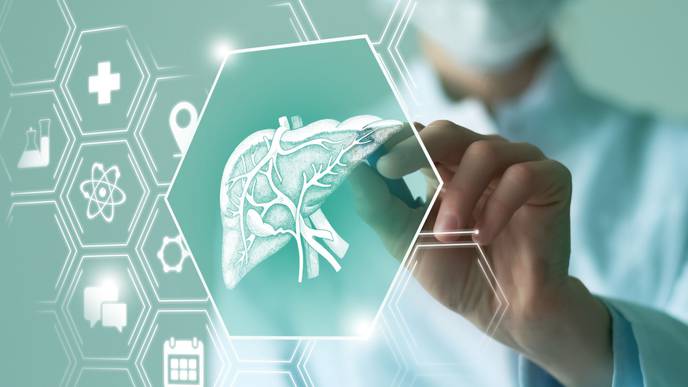 07/12/2023
Non-alcoholic fatty liver disease (NAFLD) is characterized by an excessive accumulation of lipids in hepatocytes in non-alcoholic individuals. NAFLD progressively changes from fatty liver to non-alcoholic steatohepatitis (NASH), cirrhosis, fibrosis, and, in some cases, hepatocellular carcinoma.
Since NAFLD significantly affects morbidity, healthcare services, and quality of life, it is imperative to identify effective therapies to treat this disease.
Study: CRISPR/Cas9-Based Screening of FDA-Approved Drugs for NRF2 Activation: A Novel Approach to Discover Therapeutics for Non-Alcoholic Fatty Liver Disease. Image Credit: Marko Aliaksandr / Shutterstock.com
Background
The Western diet, which is high in fat and sugar, exacerbates the incidence of obesity, which indirectly increases the prevalence of NAFLD. The two-hit hypothesis proposes insulin resistance to be responsible for this association, as it is superseded by oxidative stress that ultimately leads to NAFLD. 
Oxidative stress, which plays a critical role in NAFLD pathogenesis, occurs as a consequence of the production of reactive oxygen species (ROS) and antioxidant defenses. Nuclear factor erythroid 2-related factor 2 (NRF2) is a transcription factor that regulates the cellular defense mechanisms against oxidative stress; therefore, this factor could be used as a therapeutic target to manage NAFLD.
Previous studies have described the therapeutic potential of NRF2 activation using animal models of NAFLD. These studies have indicated the beneficial effects of apigenin and curcumin, both of which are natural inducers of NRF2.
Potential NRF2 activators are discovered based on two approaches. The first approach includes the investigation of compounds that can alter interactions between the protein Kelch-like ECH-associated protein 1 (KEAP1) and NRF2.
The second approach is associated with the use of cell lines engineered with an artificial antioxidant response element (ARE), which induces the expression of luciferase. This enzymatic expression enables the detection of inducers of the antioxidant response.
About the study
A recentAntioxidants journalstudy describes a novel method to identify potential activators of NRF2. To this end, the CRISPR/Cas9 genome editing technology was used to establish a HEK293T cell line to detect endogenous expression of heme oxygenase-1 (HMOX1), which is a common target used for NRF2 activation.
The newly developed cell line contains endogenous HMOX1 tagged with Nanoluc luciferase (HMOX1-Nanoluc cell line), which enables efficient physiological identification of potential NRF2 inducers. To assess the suitability of this cell line for high-throughput screening (HTS) campaigns, 1,200 FDA-approved compounds were tested.
Study findings
The HMOX1-Nanoluc cell line can detect the endogenous expression of HMOX-1 in response to NRF2 activation through the known NRF2 activator CDDO-me. The Z-factor for CDDO-me at 500 nM was estimated to be 0.84, thus indicating its suitability for HTS, as previous studies have noted that assays with values above 0.5 are considered excellent for HTS.
In this study, potential NRF2 activators were identified using a library of 1,200 FDA-approved compounds using an HTS assay with the HMOX1-Nanoluc cell line. Thiostrepton, Disulfiram, Halofantrine, Vorinostat, Auranofin, and Thimerosal were identified as NRF2 activators.
The identified compounds were validated for their capacity to activate HMOX1 expression. In both the validation assay and dose-response assay (1-1000 nM), powdered compounds were used in the HMOX1-Nanoluc cell line.
These experiments revealed that all six compounds enhanced HMOX1 expression in a dose-dependent manner. The majority of the compounds increased the HMOX1 expression by up to three-fold at higher doses. However, this observation was not true for auranofin, which increased HMOX1 expression up to 10-fold at high doses. Notably, auranofin enabled HMOX1 expression increase of at least three-fold at low nanomolar doses between 15 nM and 30 nM.
HUH-7 hepatoma cells were used to assess the protective effects of the newly identified compounds against oxidative stress. To this end, HUH-7 hepatoma cells were exposed to 200 μM of hydrogen peroxide (H2O2) for a short duration. All compounds improved cell viability, albeit with varying levels of protection. 
The combined use of Thimerosal and Vorinostat at a high dose exhibited a detrimental effect on protection against H2O2. However, such effects were not observed when independent compounds were used.
All compounds enabled the reduction of the accumulation of lipid droplets. Except for disulfiram, all other compounds reduced lipid accumulation as strongly as the known NRF2 inducers.
Conclusions
It is important to identify NRF2 activators due to their crucial function in the cellular resistance to oxidative stress, which is associated with NAFLD pathogenesis. In this study, scientists developed a new approach based on the CRISPR/Cas9 technique to identify NRF2 activators based on a novel cell line to determine endogenous HMOX-1 expression upon NRF2 nuclear translocation.
Several compounds were identified that exhibited protection against oxidative stress at varying levels in a dose-dependent manner. Thus, this approach can be used to identify effective compounds to treat NAFLD and other diseases affected by oxidative stress.
Journal reference:
Li, J., Arrest, S., Olszowy, B., et al. (2023) CRISPR/Cas9-Based Screening of FDA-Approved Drugs for NRF2 Activation: A Novel Approach to Discover Therapeutics for Non-Alcoholic Fatty Liver Disease. Antioxidants12(7). doi:10.3390/antiox12071363