Apple Women's Health Study Advances Understanding of Menstrual Cycles & Health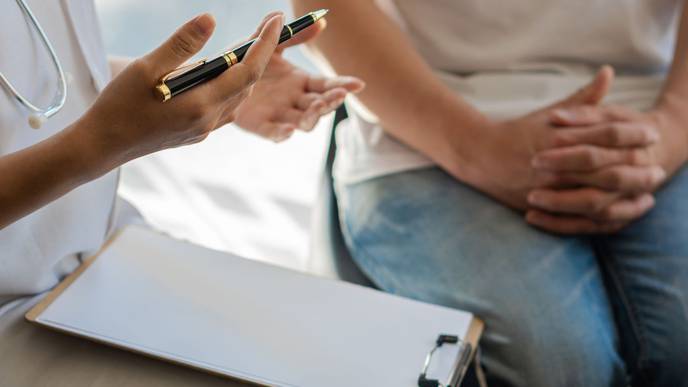 05/01/2023
February 1, 2023 – Over the past three years, researchers with the Apple Women's Health Study have been able to shed light on topics such as pregnancy attempts during the COVID-19 pandemic and the impact of COVID-19 vaccination on menstrual cycles.
Thanks to three years of renewed support from Apple, the work will continue.
"We've made incredible progress in our team's cohesion and collaboration, and we've been able to dedicate ourselves towards discovery for women's health," said Shruthi Mahalingaiah, assistant professor of environmental, reproductive, and women's health at Harvard T.H. Chan School of Public Health and a member of the study team.
The study is a collaboration of Harvard Chan School, the National Institute of Environmental Health Sciences (NIEHS), and Apple. The longitudinal study is focused on advancing understanding of menstrual cycles and using that information to improve screening and risk assessment for a range of gynecological conditions—and, ultimately, to improve health across the lifespan. With its cohort of more than 100,000 participants from across the U.S., covering a wide range of ages, racial backgrounds, and other demographic factors, the study is well on its way.
Said Mahalingaiah, "Women's research is underrepresented overall in research. But the need is high." She noted that the global burden of gynecological conditions has jumped considerably between 1990 and 2019. "My hope is that our study will address things that the world's population of menstruators are seeming to face, such as endocrine disorders, headaches, mental health issues, diabetes, and cardiovascular problems."
She added, "We're emphasizing that the menstrual cycle is a vital sign. I would like to lobby to have it up front in our medical record charting. For instance, is your period regular or irregular? Even that basic information can provide a whole view of a person's health." She noted that irregular periods can indicate a serious health issues. "People don't understand, for instance, that fewer periods per year significantly increases your cancer risk," she said. "It's important that people have this information."
Participants who volunteer for the study download the Apple Research app on their iPhone and use it to track their menstrual cycles as well as take monthly surveys related to their menstrual experience. Apple Watch users also have the opportunity to choose to share data on physical activity and mobility that is passively collected. Those who've signed up say they are participating in order to advance women's health research, to better understand their own health behaviors, and to improve technology in women's health. Privacy is embedded into the study design. Participants have granular control over which types of data they choose to share with the study, and can withdraw from the study at any time. Any data collected is encrypted in transit and stored securely in a system designed to meet the technical safeguard requirements of the Health Insurance Portability and Accountability Act.
Since its launch in the fall of 2019, the study has contributed research related to COVID-19 and other health issues. For example, the team found that there was an almost 20% decrease in pregnancy attempts during the pandemic, particularly among those with lower educational levels and lower perceived social status. Other research showed that while COVID-19 vaccines may cause small changes in menstrual cycles, those changes are temporary. Another study highlighted how menstrual characteristics vary by age, race and ethnicity, and weight; for example, participants who were Asian or Hispanic had longer menstrual cycles, and obesity was also linked with longer cycles.
Going forward, researchers plan to examine how seasonality affects the menstrual cycle, how polycystic ovarian syndrome (PCOS) may impact heart health, and the link between menstruation and migraines. Other areas of interest to the researchers include infertility, osteoporosis, pregnancy complications, and menopausal transition.
Mahalingaiah is particularly cheered by the fact that the study design makes it accessible to all, regardless of socioeconomic status, race, geographical location, or other factors. "We are breaking down boundaries by making this study 100% accessible," she said. "Whether you're living in a rural area or you feel disenfranchised by the medical community—this is building a bridge to having representation from all of those voices."
photo: iStock/Natalia Kirienko