10 Years After First TAVR Procedure, Berks Cardiology Continues to Innovate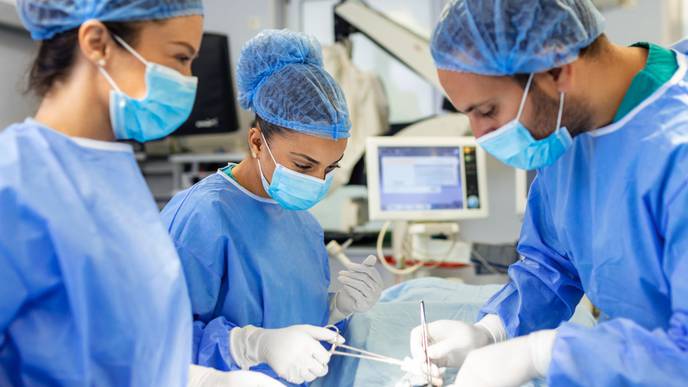 07/05/2023
HERSHEY, Pa. — In the last 10 years, John Kline has celebrated his 50th wedding anniversary, watched his grandchildren graduate from high school and college, attended the wedding of his youngest granddaughter and learned his first great-grandchild is on the way — important milestones for anyone. But for the 76-year-old Sinking Spring resident, he said, being able to take part in these events is an extraordinary gift.
In 2013, Kline was diagnosed with severe aortic stenosis, a condition in which the aortic valve narrows and restricts blood flow to the main artery that carries blood to the body. However, due to calcium deposits that had formed on his aortic root, he was unable to safely undergo traditional open-heart surgery to replace his aortic valve. Instead, he would become the first patient in the Berks region to have a minimally invasive heart procedure known as Transcatheter Aortic Valve Replacement, or TAVR.
"I probably wouldn't be here without it," he said. "Every day I'm alive is a great day."
Berks Cardiology performs region's first TAVR
At the time, Dr. Guy Piegari, an interventional cardiologist at Penn State Health Medical Group – Berks Cardiology in Wyomissing was interested in advancing the TAVR procedure locally. But it wasn't readily available. He said he recalled a lot of jockeying taking place among local health care providers and institutions to determine who would be first in the region to offer it. In the end, Berks Cardiology won the honor due to its reputation as an innovator in cardiovascular disease treatment, and Piegari got to work laying out a plan of action.
"The next step was to find the first clinically appropriate patient," he said. "That was Mr. Kline."
Kline didn't hesitate to be a part of local medical history. Piegari, together with Dr. Hani Salha, performed the first TAVR procedure at Penn State Health St. Joseph Medical Center on May 23, 2013, as more than 20 staff members, device representatives, proctors, anesthesiologists and observers looked on within the room and from the observation window above. Using small incisions and a catheter to reach the heart, Piegari guided the replacement valve through the catheter and into the aortic valve that wasn't working. Once in position, he inflated a balloon that would hold the new valve, made from cow or pig heart tissue, in place. The new valve began functioning immediately, and he removed the catheter.
"When I woke up, I felt great," said Kline, explaining that his recovery included just three weeks of physical therapy. Today he is living life to the fullest, he said. "I do a lot of auctioning, going here and there. I work in my garden. I trap shoot. I still go hunting and fishing."
Although Kline continues as a Berks Cardiology patient, his cardiologist is Dr. Frank Politzer. However, he said, he makes a point to stop by and see Piegari whenever he has an appointment in the building.
"He asks about me, and I ask about him," Kline said. "He's a gentleman's gentleman."