​​​​​​​Rice, Baylor to Study How Screen Use Affects Young Children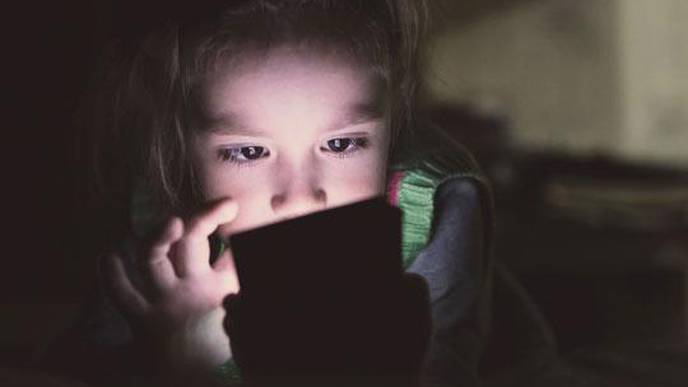 11/11/2022
Photo: 123rf.com
Children are captivated by the electronic screens of televisions, laptops, smartphones and other devices, and researchers from Rice University, Baylor College of Medicine and Northern Illinois University have begun an innovative study of young children's screen use and its potential effects on their physical and cognitive development. The research is funded by a $6.2 million grant from the Eunice Kennedy Shriver National Institute of Child Health and Human Development, a part of the National Institutes of Health.
The average child in the U.S. spends an estimated 2.5 hours a day in front of electronic screens, which is more than double the amount of screen time pediatricians suggest. Despite the pervasiveness of screens and their appeal, it has been difficult for researchers to determine how they impact children's development.
"Research so far has been done using parents' reports about what their children typically do when it comes to screen use," said Baylor College of Medicine pediatrician Dr. Teresia O'Connor, the principal investigator on the NIH grant. "While parents are well-meaning, there are problems with conducting research that uses parent reports on typical use as the only source of information."
O'Connor, an associate professor in the nutrition division of Baylor's Department of Pediatrics and associate director for human sciences at Houston's Children's Nutrition Research Center, said it is easy for parents to overlook or forget how much time their children spend on screens each day, and inaccuracies in parent-provided data makes it very difficult for researchers to establish correlations between children's screen usage and their health and developmental outcomes.
Rice engineers led by Ashok Veeraraghavan, a professor of electrical and computer engineering and a member of Rice's Scalable Health Laboratories, are creating an open source system called FLASH — an acronym for Family Level Assessment of Screen use in the Home — to objectively and automatically measure children's screen-viewing behaviors.
O'Connor said objective FLASH data could allow health professionals to make more informed recommendations for parents about children's screen media use.
"If there are associations with poorer outcomes, we hope to provide guidance on how to reduce risk," O'Connor said. "If there are no associations, we hope to put parents' minds at ease that some screen use, with age-appropriate content, doesn't put their child at risk."
The Rice team that's developing FLASH is drawing on advances in imaging, facial recognition, computer vision, signal processing and other technologies, said Anil Vadathya, the project's lead engineer.
"We're creating two versions of the system," Vadathya said. "One will measure screen use on mobile devices, like smartphones and tablets. The other is for TVs and will measure both TV viewing and game console use."
The five-year grant includes funding for three long-term studies of the impacts of screen use on young children. In the first, researchers will measure preschool-aged children's screen use for one year and investigate potential impacts on sleep and physical growth. The second will follow the same group of children for one year to examine associations between screen use, learning and memory. It will also investigate how parents can help children use screens in a way that supports brain development. The third study will follow preschool-aged children over the course of a few weeks and examine how the use of screens at varying times prior to a child's bedtime impacts their sleep and circadian rhythms.
"FLASH could have a significant impact on public health and clinical research regarding screen media use," Veerarghavan said. "This could really change how scientists assess health outcomes of screen use and how they design interventions to address those outcomes."
Houston's Children's Nutrition Research Center, one of six U.S. human nutrition research centers funded by the Department of Agriculture, is operated by Baylor in cooperation with Texas Children's Hospital and USDA's Agricultural Research Service.