Mount Sinai Launches Center for Ophthalmic Artificial Intelligence & Human Health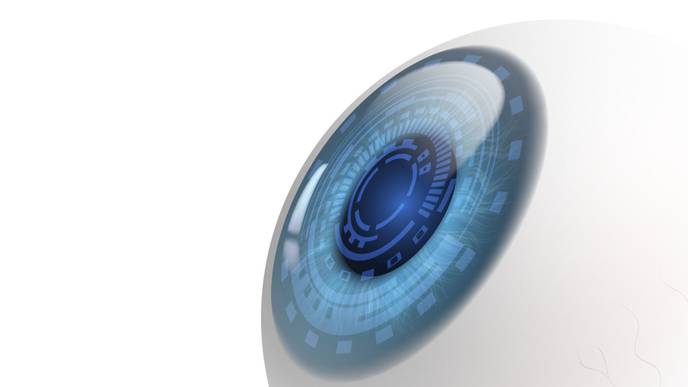 07/08/2023
New York, NY
(July 05, 2023)
The Icahn School of Medicine at Mount Sinai has launched the Center for Ophthalmic Artificial Intelligence and Human Health, the first of its kind in New York and one of the first in the United States. The Center is dedicated to advancing artificial intelligence (AI) in the field of ophthalmology, further positioning the Mount Sinai Health System as a leader in providing patient care through pioneering innovations and technologies.
In partnership with the Windreich Department of Artificial Intelligence and Human Health at Icahn Mount Sinai, the Center aims to advance clinical innovation in AI-based diagnostic care in ophthalmology and population-based medical care, while advancing the understanding of cardiovascular and neurological conditions that impact patient well-being.
Mount Sinai will lead the way in incorporating AI into trainee and physician education, research, and the clinical setting for rapid diagnosis of eye diseases and conditions including macular degeneration, diabetic retinopathy, glaucoma, hypertensive retinopathy, systemic conditions, and retinal tumors. Early detection and intervention can prevent vision loss, and may also prevent heart attack and stroke since several eye conditions are linked to cardiovascular and neurological issues.
"Our department is excited to be at the forefront of ophthalmic innovation in AI and Human Health and play a critical role in validating and implementing the most promising technologies," says James C. Tsai, MD, Delafield-Rogers Professor and Chair of Ophthalmology at Icahn Mount Sinai and the Mount Sinai Health System, President of New York Eye and Ear Infirmary of Mount Sinai (NYEE), and inaugural Director of the Center. "We anticipate that the Center will help revolutionize and transform population-based health, thereby enhancing quality and equitable care. Besides the more timely diagnosis and referral of community-based ocular conditions, we will better predict cardiovascular health in the future since recent research has shown that cardiovascular risk factors can be determined from AI-guided analysis of retinal fundus photographs. No other specialty in medicine allows such an unimpeded view and assessment of the cardiovascular and neurological systems."
Dr. Tsai will grow and expand the Center with two Co-Directors, Louis Pasquale, MD, Chair of Ophthalmology at The Mount Sinai Hospital and Director of the Mount Sinai – NYEE Eye and Vision Research Institute, and Alon Harris, PhD, Vice Chair of International Research and Academic Affairs at Icahn Mount Sinai.
This Center will research and implement validated AI models across three initial areas: Mount Sinai's tele-retina program, ophthalmology tele-consult program, and eye stroke service.
In Mount Sinai's tele-retina program, primary care physicians use high-quality portable digital cameras to capture retinal images during annual patient exams. Images are then uploaded to a secure technology platform, where NYEE retinal specialists access and read them and provide timely diagnoses. The implementation of validated AI software for these retinal images in the coming years could provide onsite interpretations of these scans, appropriate immediate patient referrals, and risk calculations for heart disease and stroke. 
Mount Sinai's tele-ophthalmology consult pilot program, currently housed at Mount Sinai Morningside and Mount Sinai West, provides timely diagnosis and triage of patients with eye emergencies by using sophisticated telemedicine platforms without relying on in-person consultations from ophthalmologists. With breakthroughs in AI technology, patients could gain a more rapid diagnosis with expedited treatment. 
AI will also transform and expand Mount Sinai's Eye Stroke Service, housed at several Emergency Departments in the Mount Sinai Health System, to expedite the diagnosis and treatment of patients who present with an acute eye stroke (central retinal artery occlusion). Currently, high-resolution optical coherence tomography retinal scans are taken in various emergency departments and sent to on-call retinal specialists to make an instantaneous diagnosis and alert the neuroradiology team that immediate stroke treatment with intra-arterial thrombolysis therapy is needed.
"I am delighted to partner with Dr. Tsai and our colleagues at the distinguished New York Eye and Ear Infirmary of Mount Sinai in this groundbreaking initiative," says Thomas J. Fuchs, Dr.sc., Dean of Artificial Intelligence and Human Health at Icahn Mount Sinai. "Artificial Intelligence is revolutionizing our society, especially in how we deliver health care to patients. Ophthalmology is at the forefront of this change since the image domain lends itself exceptionally well to modern deep learning-based AI. At Mount Sinai, we can realize the vision of an AI-driven ophthalmology that will drastically improve care for nearly every patient visiting our hospitals."
Researchers will analyze these data-embedded images by developing and using state-of-the-art AI algorithms and combine these findings with high-throughput genotyping data available at Icahn Mount Sinai. AI will help develop unique ocular biomarkers that can inform the pathophysiology of eye diseases, highlight health care disparities in eye disease, predict earlier onset of disease and progression, better help monitor diseases and response to treatment, provide a framework for developing precision medicine strategies for these diseases, and streamline the performance of clinical trials.
"Mount Sinai continues to be at the forefront of the artificial intelligence revolution, and taking an exciting new step into the field of ophthalmology to further collaborate across our health system to discover new approaches designed to solve complex health problems," said Dennis S. Charney, MD, Anne and Joel Ehrenkranz Dean of Icahn Mount Sinai and President for Academic Affairs of the Mount Sinai Health System. "This new center further demonstrates our strong commitment to developing this field and train the next generation of leaders in eye care and ophthalmology research in novel areas involving technology and charting new areas of discovery that can quickly be implemented into everyday clinical practice."
For more information, click on the link below:
https://icahn.mssm.edu/about/departments/center-ophthalmic-ai


About the Icahn School of Medicine at Mount Sinai
The Icahn School of Medicine at Mount Sinai is internationally renowned for its outstanding research, educational, and clinical care programs. It is the sole academic partner for the eight- member hospitals* of the Mount Sinai Health System, one of the largest academic health systems in the United States, providing care to a large and diverse patient population.   
Ranked 14th nationwide in National Institutes of Health (NIH) funding and among the 99th percentile in research dollars per investigator according to the Association of American Medical Colleges, Icahn Mount Sinai has a talented, productive, and successful faculty. More than 3,000 full-time scientists, educators, and clinicians work within and across 44 academic departments and 36 multidisciplinary institutes, a structure that facilitates tremendous collaboration and synergy. Our emphasis on translational research and therapeutics is evident in such diverse areas as genomics/big data, virology, neuroscience, cardiology, geriatrics, as well as gastrointestinal and liver diseases. 
Icahn Mount Sinai offers highly competitive MD, PhD, and Master's degree programs, with current enrollment of approximately 1,300 students. It has the largest graduate medical education program in the country, with more than 2,000 clinical residents and fellows training throughout the Health System. In addition, more than 550 postdoctoral research fellows are in training within the Health System. 
A culture of innovation and discovery permeates every Icahn Mount Sinai program. Mount Sinai's technology transfer office, one of the largest in the country, partners with faculty and trainees to pursue optimal commercialization of intellectual property to ensure that Mount Sinai discoveries and innovations translate into healthcare products and services that benefit the public.  
Icahn Mount Sinai's commitment to breakthrough science and clinical care is enhanced by academic affiliations that supplement and complement the School's programs.  
Through the Mount Sinai Innovation Partners (MSIP), the Health System facilitates the real-world application and commercialization of medical breakthroughs made at Mount Sinai. Additionally, MSIP develops research partnerships with industry leaders such as Merck & Co., AstraZeneca, Novo Nordisk, and others.  
The Icahn School of Medicine at Mount Sinai is located in New York City on the border between the Upper East Side and East Harlem, and classroom teaching takes place on a campus facing Central Park. Icahn Mount Sinai's location offers many opportunities to interact with and care for diverse communities. Learning extends well beyond the borders of our physical campus, to the eight hospitals of the Mount Sinai Health System, our academic affiliates, and globally.  
------------------------------------------------------- 
* Mount Sinai Health System member hospitals: The Mount Sinai Hospital; Mount Sinai Beth Israel; Mount Sinai Brooklyn; Mount Sinai Morningside; Mount Sinai Queens; Mount Sinai South Nassau; Mount Sinai West; and New York Eye and Ear Infirmary of Mount Sinai.