COVID-19 Research Could Lead to New Painkillers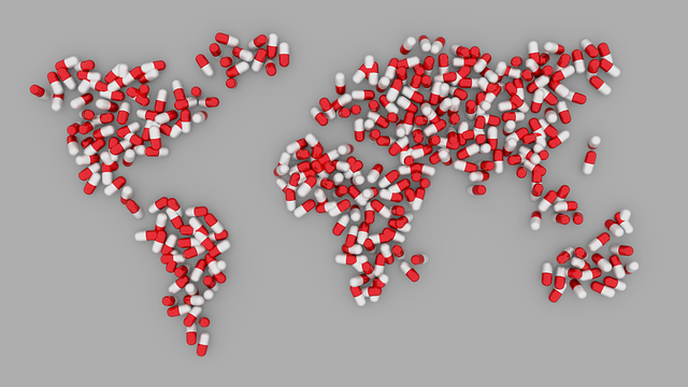 11/13/2020
A loss of taste or smell is one of the early signs of being infected with COVID-19. Scientists say the virus appears to bind itself to nerves in the nasal cavity, causing inflammation that blocks sensory signals associated with smell and taste from reaching the brain.
Researchers at the University of Arizona believe SARS-CoV-2 may have a similar effect on pain signals and essentially acting as an analgesic. That may explain why nearly half the people infected with COVID-19 experience few or no symptoms, even though they are still able to spread the disease.
"It made a lot of sense to me that perhaps the reason for the unrelenting spread of COVID-19 is that in the early stages, you're walking around all fine as if nothing is wrong because your pain has been suppressed," says Rajesh Khanna, Ph.D., a pharmacology professor at University of Arizona Health Sciences College of Medicine Tucson.
"You have the virus, but you don't feel bad because your pain is gone. If we can prove that this pain relief is what is causing COVID-19 to spread further, that's of enormous value."
Viruses cause infections by attaching themselves to protein receptors on cell membranes. Early in the pandemic, scientists established that SARS-CoV-2 enters the body via the ACE2 protein on the surface of many cells. Recent preliminary studies suggest there is another route to infection, in which the virus attaches itself to a receptor called neuropilin-1.
"That caught our eye because for the last 15 years my lab has been studying a complex of proteins and pathways that relate to pain processing that are downstream of neuropilin," said Khanna. "So we stepped back and realized this could mean that maybe the spike protein is involved in some sort of pain processing."
How COVID-19 Blocks Pain Signals
Many biological pathways send pain signals to the brain. One is through a protein called vascular endothelial growth factor-A (VEGF-A), which plays an essential role in blood vessel growth but also has been linked to inflammatory diseases such as rheumatoid arthritis and osteoarthritis. VEGF-A binds to neuropilin in a way that triggers a cascade of pain signals.
In research on rodents, Khanna says his team found that the SARS-CoV-2 binds to neuropilin in exactly the same location as VEGF-A, which "completely reversed the VEGF-induced pain signaling." The virus had an analgesic effect at both high and low doses.
Khanna and his colleagues' groundbreaking research has been published in the journal PAIN. He also authored a blog post in the Daily Beast to explain the findings in layman's terms. He says the discovery could not only lead to new treatments for COVID-19, but new ways to block pain signals.
"Sneaky virus, fooling people into believing that they do not have COVID-19. But, ironically, it may be gifting us with the knowledge of a new protein, critical for pain. Two roads emerge in the forest ahead: (1) block neuropilin-1 to limit SARS-CoV-2 entry, and (2) block neuropilin-1 to block pain," Khanna wrote in the Daily Beast.
In future studies, Khanna says his research team will be examining neuropilin as a new target for non-opioid pain relief. They have already tested existing neuropilin inhibitors developed to suppress tumor growth in cancers and found they provided the same pain relief as SARS-CoV-2 when it binds to neuropilin.
"We are moving forward with designing small molecules against neuropilin, particularly natural compounds, that could be important for pain relief," Khanna said. "We have a pandemic, and we have an opioid epidemic. They're colliding. Our findings have massive implications for both. SARS-CoV-2 is teaching us about the viral spread, but COVID-19 has us also looking at neuropilin as a new non-opioid method to fight the opioid epidemic."