2021 Updated Immunization Schedule for Children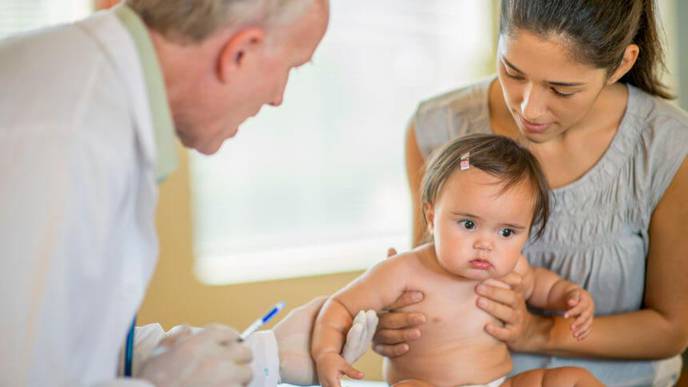 04/28/2021
Photo: Getty Images
Every February, the Centers for Disease Control and Prevention's Advisory Committee on Immunization Practices (ACIP) issues annual updates to the child/adolescent and adult immunization schedules based on the best available evidence.1 The National Association of Pediatric Nurse Practitioners (NAPNAP) was one of several medical associations to approve the ACIP immunization schedule for 2021. This is the first time that NAPNAP has officially endorsed the schedule, according to Mary Koslap-Petraco, DNP, PPCNP-BC, CPNP, FAANP, clinical assistant professor at Stony Brook School of Nursing in Stony Brook, NY.2
Other professional organizations working with ACIP include the American Academy of Pediatrics (AAP), the American Academy of Family Physicians (AAFP), the American College of Obstetricians and Gynecologists (ACOG), and the American College of Physicians (ACP).
After seeing a decline in childhood immunization rates in 2020 as a result of the COVID-19 pandemic, there has been more effort to harmonize the vaccination schedules to encourage parents to vaccinate their children, said Dr.  Koslap-Petraco during a presentation at the National Association of Pediatric Nurse Practitioners Annual Meeting (NAPNAP 2021).2 The CDC is urging health care providers (HCPs) to work with families to bring children up to date with their vaccinations. Specifically, HCPs should be identifying children who have missed well-child visits and/or recommended vaccination and contact them to schedule in-person appointments. 
In addition, ACIP approved an amendment to include COVID-19 vaccine recommendations in the child and adolescent immunization schedule. After Emergency Use Authorization (EUA) of Pfizer-BioNTech COVID-19 vaccine and Moderna COVID-19 vaccine by the Food and Drug Administration (FDA), ACIP issued an interim recommendation for use of Pfizer-BioNTech COVID-19 vaccine in persons aged 16 years of age and older and for use of Moderna COVID-19 vaccine in persons aged18 years or older.3,4 Clinical studies are now underway examining the efficacy of the 2 vaccines in children between the ages of 12 to 15 years; preliminary results have been promising but no EUA is expected before the summer.
ACIP 2021 Updates
Updates to the child and adolescent immunization schedule include the following:
Haemophilus influenzaetype b vaccination (Hib)
Updated to indicate that no further doses of catch-up vaccination are needed if a dose was administered at age 15 months or older.
Hepatitis B vaccination
For infants born to an HBsAg-negative mother and weighing less than 2000g, the "birth dose" section clarifies when the vaccine can be administered.

Administer dose 1 within 24 hours of birth for medically stable infants weighing 2000 g or more.

Administer 1 dose at chronological age 1 month or hospital discharge (whichever is earlier and even if weight is still less than 2000 g).
Human papillomavirus (HPV) vaccination
Updated to clarify that the dose series does not need to be restarted if the vaccination schedule is interrupted.
Influenza Vaccination
Updated to reflect the recommendations for the 2020-21 influenza season.
The Special Situations section was updated regarding persons with egg allergy with symptoms other than hives:

If using an influenza vaccine other than Flublok

®

 or Flucelvax

®

, the vaccine should be administered in a medical setting under the supervision of a health care provider who can recognize and manage severe allergic reactions.

Additional information about severe allergic reactions:

All vaccination providers should be familiar with the office emergency plan and certified in cardiopulmonary resuscitation.

Previous severe allergic reaction to influenza vaccine is a contraindication to future receipt of any influenza vaccine.

The abbreviation for live attenuated influenza vaccine (LAIV) has been changed to LAIV4.
Additional circumstances for when LAIV4 should not be used:

Children less than 2 years of age.

Persons who received influenza antiviral medications oseltamivir or zanamivir within the previous 48 hours, peramivir within the previous 5 days, or baloxavir within the previous 17 days.
Meningococcal serogroup A, C, W, Y vaccination
MenACWY-TT (MenQuadfi™) has been added to the list of vaccines in the sections on routine vaccination, catch-up vaccination, and Special Situations.
Under Special Situations, information has been updated on the recommendations for the use of MenACWY-CRM (Menveo

®

):

For infants who received dose 1 at age 3 to 6 months: administer a 3- or 4-dose series (dose 2 [and dose 3 if applicable] at least 8 weeks after the previous dose until a dose is received at age 7 months or older, followed by an additional dose at least 12 weeks later and after age 12 months).
Tetanus, diphtheria, and pertussis (Tdap) vaccination; Diphtheria, tetanus, acellular pertussis (DTaP) vaccination
Under Special Situations, information has been added regarding the recommendation for the use of Tdap or DTaP vaccine in wound management.
For persons 7 years of age or older with a history of 3 or more doses of the tetanus-toxoid-containing vaccine:

For clean and minor wounds, administer Tdap or Td if more than 10 years since the last dose.

For all other wounds, administer Tdap or Td if more than 5 years since the last dose.

Tdap is preferred for persons age 11 years or older who have not previously received Tdap or whose Tdap history is unknown.

If a tetanus-toxoid-containing vaccine is indicated for a pregnant adolescent, Tdap should be used.
For additional guidance on the use of each vaccine appearing in the schedule, including precautions and contraindications, clinicians can view the respective ACIP vaccine recommendations at cdc.gov. In addition, vaccine catch-up guidance can be found here.